These Immortal Souls Re-releases
Posted by
Several Sins
on 2011-11-02
According to Harry Howard, Mute Artists is currently considering re-releasing both These Immortal Souls' two LPs, Get Lost (Don't Lie!) and I'm Never Gonna Die Again, on vinyl (with CD).
---
Autoluminescent: Rowland S. Howard (Pt 6)
Posted by
Several Sins
on 2011-10-06
From the Autoluminescent Facebook! The documentary will be having a limited cinema release in Australia from 27 October. It will be screening at the following locations:

Chauvel Cinema, Paddington, NSW
Palace Barracks, Brisbane, QLD
Mercury Cinema, Adelaide, SA
Palace Nova, Adelaide, SA
Cinema Nova, Carlton, VIC
Cameo Cinemas, Belgrave, VIC
Classic Cinemas, Elsternwick, VIC

For session times, you can check the cinema websites closer to that date. There are some links to them here.
---
Teenage Snuff Film - New Release
Posted by
Several Sins
on 2011-09-19
As a tribute to Rowland S. Howard and in celebration of the Autoluminescent documentary, Liberation Music will be releasing a limited edition double vinyl set of Teenage Snuff Film. Only 500 copies. "Shut Me Down", a bonus track from the original release (later rerecorded for Pop Crimes) will be replaced with a cover of The Velvet Underground's "Ocean", recorded by Rowland with The Devastations and previously released on the Autoluminescent 7", so the tracklist is as follows:

1. Dead Radio
2. Breakdown (And Then.)
3. She Cried
4. I Burnt Your Clothes
5. Exit Everything
6. Silver Chain
7. White Wedding
8. Undone
9. Autoluminescent
10. Sleep Alone
11. Ocean

The album can be pre-ordered now through JB Hifi.

And in further celebration of the Autoluminescent documentary, here is a review of the film by Lady Godiva at Reverberation.
---
Autoluminescent: Rowland S. Howard (Pt 5)
Posted by
Several Sins
on 2011-09-03
Official trailer!

Also,
Autoluminescent
ranked 2nd in the MIFF People's Choice Award for Documentary. Thanks to everyone who voted!
You can see the rankings here.
ETA!
Australian Theatrical Release: Oct 27, 2011
---
Autoluminescent: Rowland S. Howard (Pt 4)
Posted by
Several Sins
on 2011-08-03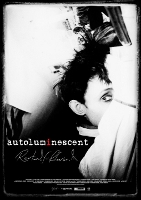 Autoluminescent has been upgraded to Greater Union Cinema 6, a larger theater, for its encore screening, allowing for the sale of 200+ more tickets. Still available!

You can rate the film here. Any DVD release will likely be dependent on its reception at festivals, so please get voting, because the rest of us in other countries want to see it too!

For more news, you can follow more of Lowenstein's updates about the film on the Autoluminescent Facebook and read reviews on Mess+Noise here and here.



---